Who Are We?
LALUZ Home is the global leader in home and garden industry. In the spirit of "light up your home", LALUZ Home is a new name in the furniture business yet already well-established. Today, beginning with lighting fixtures, it's one of the leading designer and manufacturer of US-located decorative furniture companies for North America.
It's dedicated to staying ahead of the design and quality curve and effectively translating the needs of customers into forward thinking, high performance and beautiful furniture.
Distinguished by modern style, LALUZ Home can light up your home with clean, simple, uncluttered shapes and lines. No matter it's comtemporary design, modern design, mid-century modern, post-modern, you will find your favorite style in LALUZ Home!
More stylish home decoration like chandeliers, pendants, ceiling lights, wall lights, outdoor lights, rugs and more furniture can be found in LALUZ Home, let's explore now!
Why LALUZ Home?
1. UL-listed and ETL-Listed, 2-Year Warranty, Safe and Quality Assurance
We're the reputed furniture provider with UL-listed and ETL-listed marks. The primary reason UL and ETL ratings exist is to help ensure that products and components are safe. It is recognized that when purchasing these products there will be less issues that can cost your money. All LALUZ HOME products enjoy 2-year warranty with free return and replacement.

2. KD Package with Better Protection and Easier Installation
The packaging carton has high strength, and the test drop height of the standard box is up to 1.2 meter. Maximum protection of furniture intact and undamaged. With the KD package, LALUZ Home folds the product to the maximum, which can not only reduce the packaging volume, but also easy for customers to install.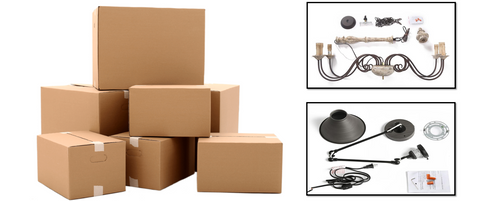 3. High Sensitivity to Design, Enjoy the Trendy 
Cooperated with international furniture designers, LALUZ Home is combined with modern and trandition, find a balance between rough and smooth texture, matte and polished finishes, warm and cool tones, especially for the farmhouse style. Practicality rules makes our furniture decorated with whatever was handy and practical.

 4. Powerful Logistic System, Everything Arrives Your Home within One Week
 Originated from Wyoming, LALUZ Home local warehouses provides speedy shipping service with powerful logistic system. Generally speaking, all products will arrive in your home within 5-10 business days.